Recipes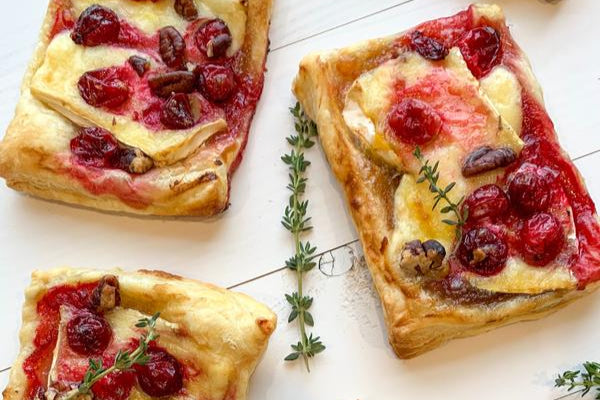 Cranberry Pecan Brie Tarts
Serving: 12 
Ingredients
1.5 tablespoon butter
2 cups fresh cranberries
1/4 cup brown sugar
2 sheets frozen puff pastry, thawed
1 (16 oz) wheel of Brie
1/2 cup apple butter
2 eggs, beaten
1/2 cup chopped pecans
4-5 sprigs of fresh thyme
Directions
Preheat oven to 425 degrees. Line a baking sheet with parchment paper or prepare with cooking spray.
In a medium sized bowl, combine fresh cranberries, brown sugar, and melted butter. Make sure every cranberry is coated.
Cut each sheet of puff pastry into six. Spread with roughly 1 teaspoon of apple butter. 
Top the apple butter with 2-3 rectangular slices of brie.
Place the cranberry mixture on top of the brie, pressing the cranberries softly into the cheese. 
Fold the outer edges of the puff pastry in and press with a fork. This will keep the cranberry juices from dripping out as well as the melted cheese.
Brush the cranberries and puff pastry with beaten egg. 
Place in the oven and bake for 15 minutes or until golden brown. Serve with fresh thyme or rosemary.