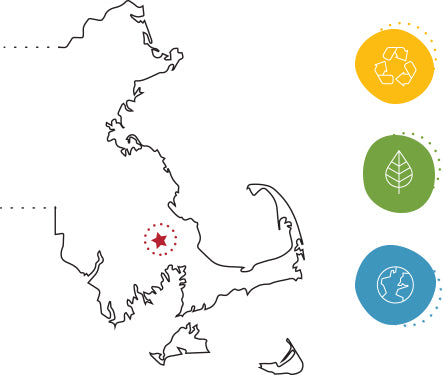 HOMEGROWN GOODNESS
Blissfully sweet. Tantalizingly tart. Joyously juicy. Our fans have called our cranberries countless things over the years. And they're not wrong. Nature nailed it with these sweet superfruits. But they don't go from soil to supermarket without a little love. We start by selecting the very best berries from 450-acres of carefully cultivated family bogs in Cape Cod – which just so happens to be the heart of Cranberry Country. Coincidence? We think not.
SUSTAINABLY GROWN
Our tantalizingly tart, supremely snackable superfruits are sustainably grown utilizing farming practices that have been perfected over three generations of farming. We're hypervigilant about water usage, consistently measuring soil moisture and temperature to ensure a drop never goes unused. We also take great care to monitor soil fertility and nutrient needs, fastidiously applying the perfect amount of fertilizer to cultivate our coveted cranberries.
ORGANIC FARMS
As pioneers of organic cranberries (not to mention, the second largest organic cranberry handler) we've gone to great lengths to ensure the quality of our organic cranberries. Admittedly, sometimes it takes looking beyond our backyard. We've ventured beyond the border, sourcing delectably tart cranberries from farms in Quebec, the epicenter of organic cranberries. Even sweeter? We've forged multi-generational partnerships with our growers. What can we say? We like to keep it in the family.
NATURAL INGREDIENTS
It seems like a no-brainer, but our cranberries come from nature, not the lab. We use only all natural ingredients. No additives, colors, or preservatives. No sulfites. No artificial anything. Only the good stuff. Just like nature intended.
RESPONSIBLE MANUFACTURING
Making our living off the land, we have a huge stake in keeping the environment healthy – for the sake of both our cranberries and community. All our facilities are operated with sensitivity to nature and reverence for the environment. We're incredibly cognizant of the fragile wetlands that have been entrusted to us and carefully consider the impact of every product we produce. Environmental stewardship has been at the core of our agricultural philosophy since our founding in 1934. We've always recognized the relationship between a healthy, prolific environment, and a healthy, prolific company. In a word, a fruitful partnership.