Recipes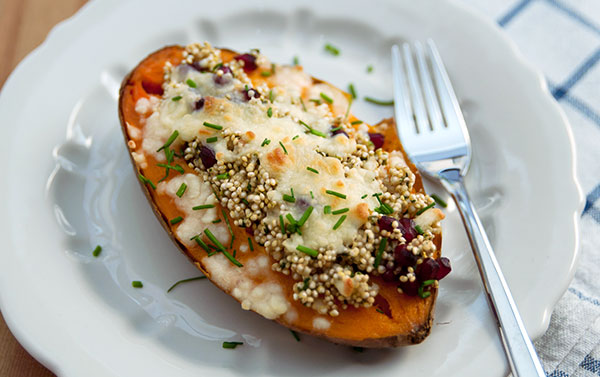 Cranberry Quinoa Stuffed Sweet Potatoes
Ingredients:
4 sweet potatoes
1 cup quinoa
1 cup vegetable broth
1 cup fresh orange juice
1 Tbsp. olive oil
4 green onions, diced
2 cups kale, broken into 1 inch pieces
1/4 cup toasted slivered almonds
1/4 cup toasted pine nuts or sunflower seeds
1/2 cup Decas FarmsPremium Dried Cranberries
1 tsp. chopped fresh thyme
zest of 2 oranges
Preparation:
Preheat oven to 400℉.
Pierce the sweet potatoes with a fork and place them directly on the oven rack with the bottom of the oven covered in foil. 
Bake for 45 minutes to 1 hour or until fork tender. 
While they are cooking, make the filling. In a saucepan, bring the orange juice and vegetable broth to a boil. Add the quinoa and reduce to a simmer.
Cover and cook for approximately 15 minutes, or until the quinoa is fluffy and the liquid is absorbed.
sauté the green onions, kale, almonds, pine nuts and cranberries in the olive oil with a pinch of salt until the kale is soft, about 3minutes. 
Stir in the orange zest and thyme. 
When the quinoa is finished cooking, add it to the frying pan and stir until well combined. 
When the sweet potatoes are thoroughly baked, cut a 2 inch slit in the top. 
Stuff each potato with the quinoa mixture and serve.