Recipes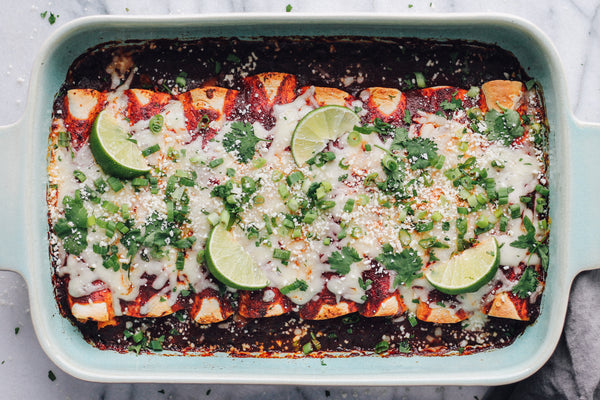 Chicken Sweet Potato Enchiladas with Cranberry Chipotle Sauce
Servings: 8 enchiladas
Ingredients:
Sweet Potatoes:
1 large (or 2 small) sweet potato, peeled and cubed
1 tablespoon olive oil
Salt and pepper
Enchilada Sauce:
2 cups fresh cranberries
1/2 cup orange juice
1/4 cup sugar
2 cloves garlic, minced
3 tablespoons chili powder
1 teaspoon cumin
1-2 chipotle peppers in adobo sauce
1 can tomato sauce
1 cup chicken broth
For the enchiladas:
8 tortillas
2 cups cooked and shredded chicken
2 cups shredded Monterrey jack cheese, divided
Toppings:
Chopped fresh cilantro
Chopped green onion
Sliced avocado
Cotija cheese
Directions:
Preheat the oven to 425 degrees.
Arrange the sweet potato cubes on a large baking sheet. Drizzle with olive oil and sprinkle with salt and pepper. Roast for 20-30 minutes until the potatoes are tender and the edges are browned and crispy.
While the sweet potatoes are roasting, make the enchilada sauce. Add the cranberries, orange juice, sugar, garlic, chili powder, cumin, and chipotle peppers to a saucepan over medium heat. Cook until the mixture is bubbling. Stir in the tomato sauce and chicken broth. Bring the mixture to a boil and reduce to a simmer, cooking for 15 more minutes. Remove from heat. Add the mixture to a food processor or blender. Blend until smooth.
Reduce the oven temp to 400 degrees. In a bowl, combine the sweet potatoes, chicken, 1 cup of cheese, and 1/2 cup enchilada sauce.
Spread 1/2 cup of the enchilada sauce on a bottom of a greased casserole dish. Fill each tortilla with the chicken and sweet potato mixture. Place the enchiladas in the dish, seam side down, and pour the remaining sauce over the top. Bake for 15 minutes. Top with remaining cup of cheese and return to the oven for another 5-10 minutes until the cheese has melted. 
Add toppings to the enchiladas before serving.
Recipe Created by Krista Teigen of Destination Delish