Recipes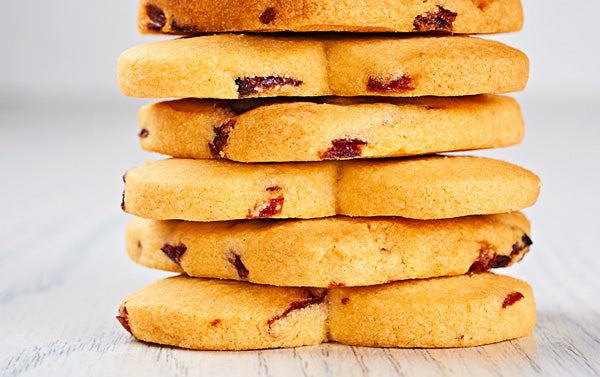 Cranberry Orange Shortbread Cookies
Ingredients:
½ cup Decas Farms Cranberry-Orange BakingCranberries
½ cups sugar
2½ cups all-purpose flour
1 cup butter, cubed (and cold)
1 tsp vanilla extract
additional sugar to coat cookies before baking (optional) 
Preparation:
Combine flour and sugar in a large bowl.
Using a pastry cutter, combine the butter until you have fine crumbs.
Add vanilla extract and cranberries. 
Kneading with your hands, combine the dough into a ball.
Shape dough into logs and wrap in plastic wrap to be refrigerated for up to 72 hours. If you plan to use cookie cutters, keep the dough balled while refrigerating. 
Preheat oven to 325F.
Cut slices of cookie dough about ¼ inch thick or roll ball of dough to ¼ inch thickness and use cookie cutters to shape your cookies. Use the leftover dough to form another ball and reroll. Cut out more cookies and repeat until all dough is used. 
Place about a half a cup of sugar in a bowl and coat the cookie slices with sugar. This step is optional.
Bake on a baking sheet for 12 to 15 minutes or until cookies are set.
Cool cookies on baking sheet for several minutes before transferring to a cooling rack to cool completely.
Adapted from
Mom on Timeout
.