Recipes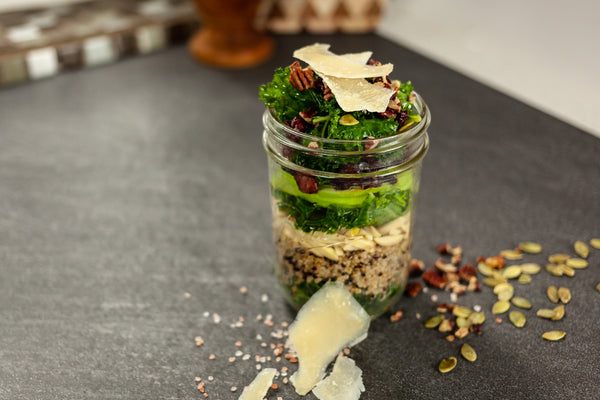 Easy Cranberry Almond Apple & Quinoa Salad
Total Time: 10 minutes   Servings: 4
Ingredients
1/2 cup quinoa
1 cup chicken broth
1/3 cup sliced almonds
2 tablespoons pumpkin seeds
3 cups (~2.5 ounces) fresh spinach
1/3 cup dried cranberries
1 Granny Smith apple
1 teaspoon lemon juice
Instructions:
1. Rinse quinoa in a fine mesh sieve.
2. In a small pot combine the quinoa and chicken broth or water.
3. Cook quinoa according to package directions. 
4. Meanwhile, add the sliced almonds and pumpkin seeds in a single layer to a completely dry skillet and place on medium-high heat. Stir the nuts and seeds every 15 seconds for about 1-2 minutes, until the color slightly darkens and they become fragrant. 
5. Chop up the apple and toss it with the lemon juice.
6. Remove the quinoa from heat and allow it to completely cool.
7. Mix together the spinach, dried cranberries, chopped apple, and completely cooled quinoa.
8. Toss with a vinaigrette of choice and top with the toasted almonds and pumpkin seeds.
If desired, add in some feta cheese or Parmesan cheese and enjoy!