Recipes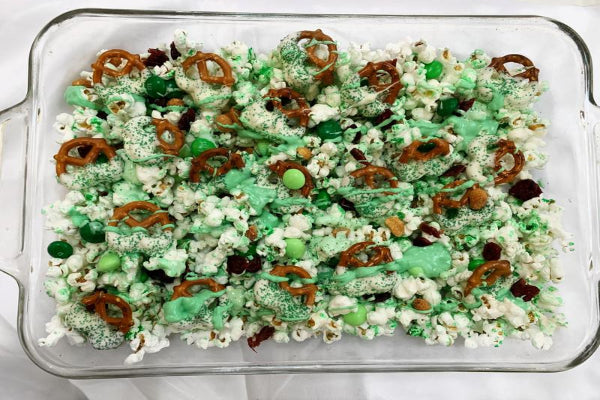 St. Patrick's Day Cranberry Leprecorn
Ingredients:
1/3 cup popcorn kernels
2 tbsp canola oil
1 tbsp butter
1/4 cup peanuts
1/4 cup dried cranberries
2 cups mini pretzels
1 cup white chocolate morsels
1/4 cup green M&M's
Green food coloring
Preparations:
Melt white chocolate in microwave 1-2 minutes, stir in between. Dip top half of pretzels in melted chocolate and place on tinfoil pan to be placed in a refrigerated area. Sprinkle green crystals on top of white chocolate covered pretzels.
Prepare popcorn and place in serving bowl.
Add cranberries, nuts, and chocolate candies into bowl and mix.
When the chocolate has hardened on the pretzels, place them in the bowl. 
Add green food coloring to melted white chocolate, drizzle over mixture and spread green sprinkles.