Cranberry Harvest Season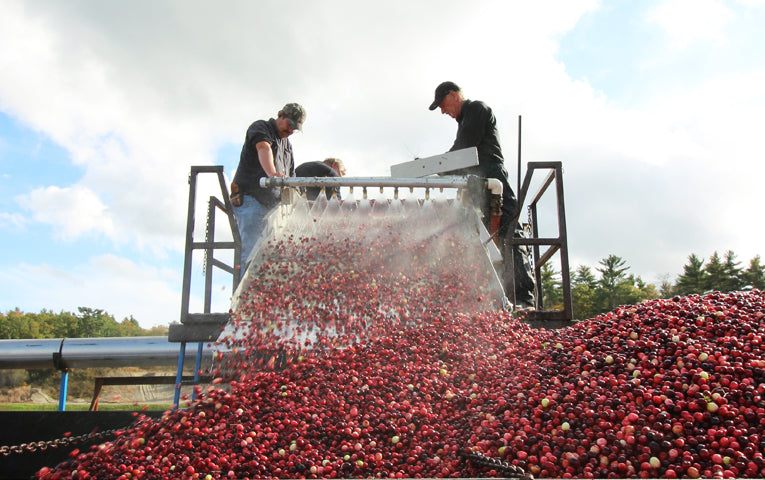 Did you know that October was National Cranberry Month? Because of how beloved the bright, mighty berries are by all of us here, you know October is a big month in our neck of the woods. But for those who aren't lucky enough to get a front row seat to the show, what exactly does it mean when growers harvest their cranberries? We're going to pull back the curtain and give you a peek!
THE BASICS
Every autumn from the third week in September through early November when cranberries reach their peak flavor, the bog becomes a hive of activity known as the harvest. There are two methods of harvesting cranberries: the dry harvest and the wet harvest.
CRANBERRIES AREN'T GROWN IN WATER?!
Contrary to popular belief, cranberries are not actually grown in water. They grow into fresh plump berries just like many other fruits- on a vine. Then, when the berries are ready, the bogs are flooded and wet harvesting occurs.   The hollow cranberries float easily from their vines but stay nestled underwater among the leaves and vines. Water reel harvesters then pass through the bog carefully combing the vines and shaking the berries free so they can float to the surface of the water.  There, they are raked, corralled, and pumped into trucks for cleaning. These cranberries are used for juices, sauces, and sweetened dried cranberries.
Dry harvesting is done using machines to pick the berries off their vines and only accounts for 4% of today's cranberry harvest. The berries picked using this method are sold as fresh cranberries and are often used in holiday cooking and baking recipes.
A NEW AND IMPROVED HARVEST
The wet harvest didn't always run the show. Prior to the 1940's the cranberry harvest was all dry and much more tedious as harvesters combed their farms collecting fresh berries by hand with wooden scoops. After crates were filled and removed, the berries still had to be sorted by color and firmness.
John "Peg Leg" Webb, a household name among cranberry harvesters like us, revolutionized this process when he dropped an entire crate of berries down his stairs over 100 years ago. As he collected his spilled berries, he noticed that only the freshest firmest berries bounced all the way to the bottom - and the Bounce Board Separator was born.
SORTING FOR FRESHNESS
In true "Peg Leg" fashion, a bounce board separator is still used today at our farms! Once the freshest and firmest cranberries have been bounced out, they are sorted for their ruby red color, first by optical laser and then passed one last time by the human eye. This process allows us to bring the only very best berries to your table.
CRANBERRY HARVEST CELEBRATION
We're proud to hail from Massachusetts, where cranberry bogs were born and raised. That's why for the past fourteen years, we've honored the beloved fruit at the Cranberry Harvest Celebration in Wareham, Massachusetts, which takes place every Columbus Day weekend. Designated as one of the "Top 100 Events in North America" by the American Bus Association, attendees get to witness how Massachusetts' state berry is grown at an event filled with food, live music, paddleboat and helicopter rides, cooking demonstrations, and so much more. Guests can even hop on a bus ride to visit the cranberry bogs, where growers explain the harvest process.
We had such a wonderful time participating in the Cranberry Harvest celebration and are so lucky to have been able to share our knowledge (and love!) of cranberries with those who attended!