7 Crantastic Smoothie Bowl Recipes for Fighting Colds!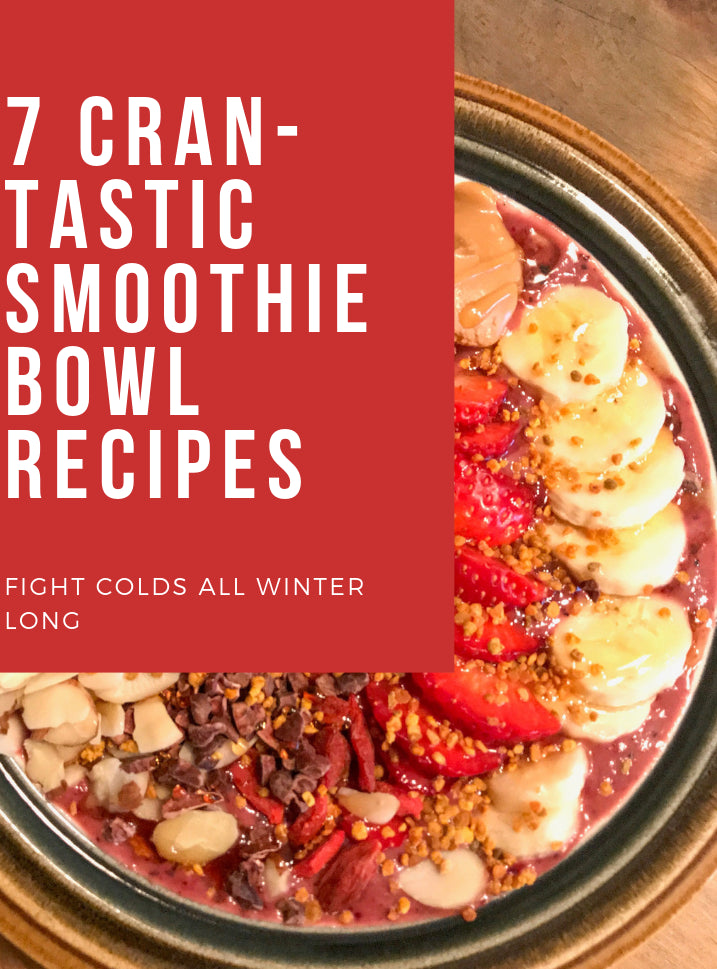 We've all heard about the amazing super nutrients of cranberries, but how many of us incorporate them into our meals?
Cranberries are at the top of the list of fruits that are rich in antioxidants and vitamins, and they are naturally low in sugar, unlike other fruits. Most people are familiar with cranberries' bacteria blocking benefits that prevent UTI's...and that's it. What you may not know about is their power to improve digestion, gut health AND give a shocking boost to your body's immune system. We all want to protect our households from illness-especially this time of year.
As cranberry lovers and experts, we feel it's our job to find you the tastiest recipes to get the super-fruit benefits of cranberries.
Here's our list of amazing smoothie bowls anyone can make that will give you the push you need to get through the winter!
1. Delightful Mom Food's Cranberry Smoothie Bowl incorporates orange zest. If you didn't already know, cranberries and oranges are a duo packed with vitamin C and they're DELICIOUS together! A bit of orange juice is added to the mixture, along with fresh cranberries and mixed berries. The toppings can be whatever you prefer. We love toasted coconut, but I mean seriously who doesn't? Other toppings including chopped almonds, fresh fruit and a unique hint of mint leaves make Delightful Mom Food's smoothie bowl one of the most eye-catching and berry best creations.
2. Minimalist Baker created a recipe we're confident that even the most novice smoothie chef would be comfortable making at home. This Instagram famous smoothie bowl only has 4 ingredients and has all the fruity, thick and creamy goodness of soft serve, but none of the unnecessary fat and added sugar. The Chia seeds are rich in Omega-3 fatty acids, and like cranberries, are loaded with antioxidants! Increasing our bodies antioxidant intake is necessary and provides essential benefits to protect our bodies against the harsh reality of today's pollution. Antioxidants protect our skin, hearts, and eyes. These super seeds are a great, satiating low-carb add on for smoothie bowls, plus, they add texture, AND they're fun to eat!  They're like the sprinkles to the soft serve smoothie bowl!
3. The Nutmeg Nanny's version of a cranberry smoothie bowl includes the best of both worlds, dried AND fresh cranberries! We know taste is supposed to be the determining factor, but who can just judge smoothie bowls on that?! This look is everything. Cranberries give a beautiful pigment to everything they're in, and this same pigment that makes them so pretty is what makes them so good for you! The toppings of soft and chewy dried cranberries and crunchy almonds add a sweet flavor and texture explosion that is sure to send your taste buds on a sensory roller coaster. 
4.Two Kitchen Collision's smoothie bowl recipe calls attention to all apple lovers and all people who want fall-flavored things year round, the "pumpkin spice is life" people, we're talking to you! This cranberry apple smoothie bowl has a cinnamon(ey) twist- we know even your kids will love. If it seems harder than usual to get your little ones away from the sugary cereal, introduce this to the breakfast routine. We know your mornings are busy, that's why we found this toss in a blender breakfast.  Let the kids "decorate" with a few of their favorite toppings. They'll see it as a fun art project, and you will have extra time for daily adulting activities!
5. The Produce Mom's combines the tartness of the cranberries with the sweetness of mandarin oranges and pomegranate seeds, leaving for a tasty tropical treat! Mandarin oranges might not be the first thing that comes to mind with smoothie bowls, but remember the beauty of the smoothie bowl making is there are no rules about what goes in the blender. Take out or add in what you like, and make it your own personal masterpiece, catered by you for you.
6. Café Johnsonia's Cranberry Pear Acai bowl recipe is for all the foodies out there. But what is Acai? Otherwise known as the berry behind the dark purple smoothie looking creations you've seen on your feed,  acai is native to South America, has amazing nutrient properties, and is purported to work magic on our bodies. Acai berries are packed with antioxidants, heart-healthy fats, and fiber. When you mix acai and cranberry together, do you turn full cape and tights into a superhero? No, but you might feel like it when you fight off every cold going around the workplace all winter. Save that sick time for the summer!
7. Nobody knows cranberries like we do! Our very own Cranberry Antioxidant Smoothie Bowl contains all the nutrients your body needs. We were determined to find a good tasting, easy to make, healthy and fulfilling bowl full of goodness! Cranberries are not just seasonal berries, they can be frozen for months after Thanksgiving to use for a variety of different recipes like delicious smoothie bowls.  Start cleaning out the freezer now for us! #HarvestIsComing As produce experts, you could say we're familiar with the smoothie bowl trend. We found that smoothies with less ingredients are more appealing than those that are not, that's why we made ours with a few simple ingredients that won't result in an hour-long trip to the supermarket. Our dried cranberries are also sprinkled on top-because we just CRAN-not get enough (yes, we like puns). There's also some more of our cranberries BF's: chia seeds, sunflower seeds, coconut and a protein packed dollop of sun butter!
The best thing about making these AMAZING recipes (besides the fact that they are uber good for you) is the ability to change, add, or eliminate certain ingredients. You can suite whatever consistency (thick or thin) and any dairy or nut preferences. There are a lot of options now-a-days!
The possibilities are endless with smoothie bowls. And, as an added bonus, you don't have to be a master chef to make them look picture worthy. (Tag us @DecasFarms with your creations)