Recipes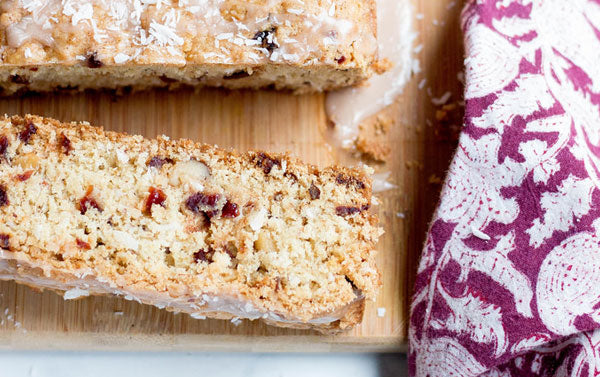 Coconut Cranberry Bread with Coffee Glaze
Ingredients:
2 cups all-purpose flour
1 tsp baking powder
1/2 tsp baking soda
1/4 tsp salt
1/2 cup Decas Farms Baking Cranberries
1/2 cup shredded unsweetened coconut + more for sprinkling on top
1/2 cup chopped walnuts + more for sprinkling on top
1 cup of sugar
2 flax eggs (2 tbsp ground flax seed + 6 tbsp warm water) or other vegan egg replacer
2/3 cup almond milk // or other non-dairy milk
1 tsp pure vanilla extract
1/3 cup coconut oil melted
For the Coffee Glaze:
1- 2 tbsp cold brew coffee
1/2 cup confectioners sugar
Instructions:
Pre-heat oven 350℉
In a medium bowl stir together flour, baking powder, baking soda, salt, cranberries, coconut and walnuts.
In a separate bowl, whisk together sugar, flax eggs, almond milk, vanilla extract and melted coconut oil
Add the wet to dry and stir well. Pour batter into a greased standard loaf pan.
Bake 45-50 minutes or until a tester inserted in the center of the loaf comes out with a few moist crumbs attached
Remove from oven, cool for at least 15 minutes prior to drizzling with coffee glaze + shredded coconut 
While the loaf is cooling make the glaze.
Place confectioners sugar in a small bowl. 
1 tbsp at a time add cold brew coffee and stir well until smooth adding the additional tablespoon of cold brew as needed
Carefully pour glaze over the loaf, sprinkle with shredded coconut, and serve. 
Recipe and photo from Sunday Morning Banana Pancakes