Recipes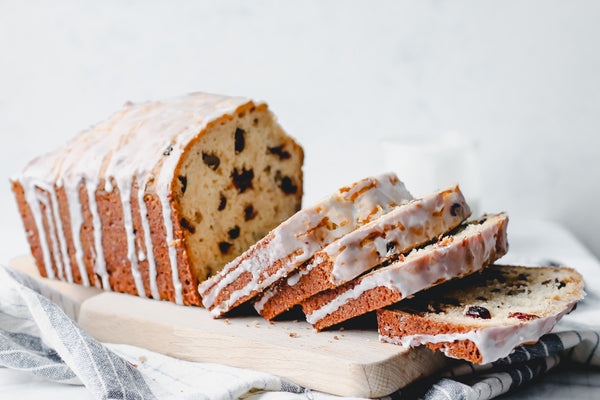 Ingredients
2 cups all-purpose flour
1 1/2 tsp. baking powder
1/2 tsp. baking soda
1/2 tsp. salt
1 1/4 cups Decas Farms Original Dried Cranberries, roughly chopped
1/2 cup walnuts, chopped                                                                                       2 tsp. orange zest
1/4 cup (1/2 stick) butter, softened
1 cup sugar
1 large egg
1/2 cup sour cream
1/2 cup plus 2 to 3 tsp. milk, divided
1/2 cup confectioners' sugar


Directions
Makes 1 loaf, 12 servings. Preheat oven to 350° F.
Coat 8 1/2" by 4 1/2" loaf pan with cooking spray.
In a medium bowl, stir together flour, baking powder, baking soda and salt.
In a small bowl, combine 1 ¼ cups cranberries, 1/2 cup walnuts, and zest; set aside.
In a bowl, with mixer at medium speed, beat butter and sugar until combined. Add egg and beat until well combined.
Gradually beat in flour mixture alternately with sour cream and 1/2 cup milk until well combined, occasionally scraping the bowl with a rubber spatula.
Stir in reserved cranberry mixture.
Spread batter evenly in pan.
Bake 60 to 65 minutes or until a toothpick inserted in the center comes out clean, covering with foil after 45 minutes.
Cool in pan on wire rack 10 minutes; remove from pan and finish cooling on wire rack.
Meanwhile, prepare glaze: In small bowl mix confectioners' sugar and remaining 2 tsp. milk until smooth; adding more milk if necessary to make a drizzle consistency. Drizzle glaze over the top of the loaf.
Let loaf stand until glaze is set. Slice and serve!