Recipes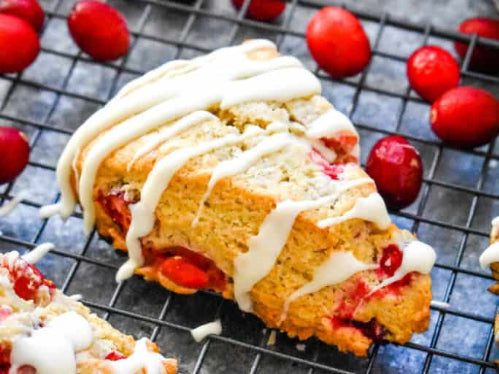 Cranberry Vanilla Bean Scones
Prep Time: 15 minutes  Cook Time: 20 minutes  Total Time: 1 hour (includes chilling time)
Yield: 8 scones 1x
INGREDIENTS
SCONES
2 cups all-purpose flour
1/2 cup granulated sugar
2 1/2 teaspoons baking powder
1/2 teaspoon ground cinnamon
Large pinch of salt
Pinch of ground ginger
1/2 cup unsalted butter, frozen and grated
1 egg
1/2 cup + 1 tablespoon cold heavy cream, buttermilk or coconut milk, divided
1 tablespoon pure vanilla bean paste
1 cup Decas Farms Fresh Cranberries, frozen
1 /2 cup Decas Farms Cranberry-Orange Baker's Cut Baking Cranberries
Coarse sugar, optional
ICING OPTIONS:
Vanilla icing
1 cup powdered sugar, sifted
2–3 tablespoons milk or heavy cream
1/2 teaspoon pure vanilla bean paste (aff link) or pure vanilla extract
Orange icing
1 cup powdered sugar, sifted
2–3 Tablespoons orange juice (no pulp)
INSTRUCTIONS
SCONES
In a large bowl, whisk to combine flour, sugar, baking powder, cinnamon and salt.
Add grated butter and combine with a pastry cutter until the mixture forms small crumbs. Place bowl in the fridge.
In a separate large bowl, whisk to combine egg, 1/2 cup heavy cream, and vanilla.
Remove the bowl from the fridge, pour in the cream mixture, add both frozen and dried cranberries, and stir until everything is just combined.
Transfer the dough to a lightly floured surface and gently knead the dough into a ball – it will be sticky, but if you find it to be too sticky to work with, add a little more flour.
Form the dough into a 7-8″ disc and then cut into 8 equally sized wedges. If you prefer smaller scones, form two 4-5″ discs and cut each into 8 equally sized wedges.
Place scones on a baking sheet prepared with a nonstick silicone mat (aff link) or parchment paper and place in the fridge or freezer for 15 minutes.
Preheat oven to 400°F and line a separate baking sheet with a nonstick silicone mat or parchment paper. Transfer chilled scones to this baking sheet, placing them 2″ apart. Brush the remaining 1 tablespoon cream across the tops of each scone, and add a sprinkling of coarse sugar (if desired).
Bake for 20-25 minutes for large scones (15-20 for small scones) or until scones are golden brown around the edges.
Let cool on baking sheet for 5-10 minutes, or move to wire rack.
ICING
In a small bowl, combine all icing ingredients and whisk until completely combined and smooth. If the mixture is too thick to drizzle, add a little more milk or cream and whisk again to combine until you've reached desired consistency.
Use your whisk to drizzle icing on top of each scone and let it set. Serve and enjoy!
NOTES
Storage: Keep them in an airtight container at room temperature for 2-3 days, or in the fridge for up to 5 days.
Freezing: I recommend freezing the scones before you've baked them. Follow the directions above up to step #7, then place the baking sheet in the freezer for 1 hour. Transfer them to a freezer bag in a single layer and they can be stored for up to 3 months. When ready to bake, follow the rest of the directions above and just add a few minutes to the baking time.
Author: Leslie Kiszka of Stress Baking