Recipes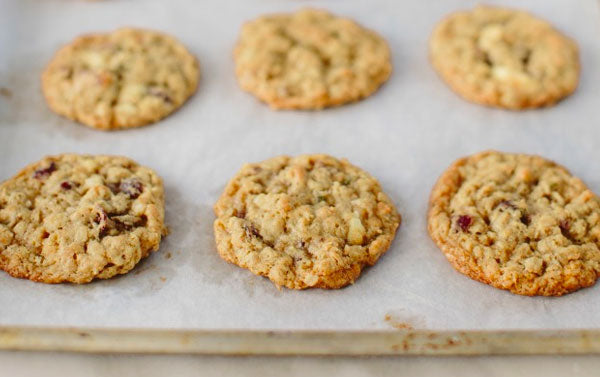 Cranberry White Chocolate Rosemary Cookies
Ingredients:
1 cup (142g) all-purpose flour
¾ teaspoon baking soda
½ teaspoon salt
12 tablespoons unsalted butter
¾ cup (149g) brown sugar
1/3 cup (66g) granulated sugar
1 teaspoon fresh rosemary, minced very fine
1 large egg
2 teaspoons pure vanilla
2 ½ cup (203g) rolled oats
4 ounces (114g) white chocolate, chopped
1/2 cup (55g) dried cranberries
Instructions:
Adjust an oven rack to the middle position, and preheat the oven to 350F. Line two baking sheets with parchment paper.
In a medium bowl, combine the flour, baking soda, and salt. Set aside.
In the bowl of a stand mixer fitted with a paddle, beat the butter on medium until smooth. Add the sugars and rosemary and beat again, until light and fluffy, 3-5 minutes. Add the egg and vanilla, and mix until combined. 
Add the flour mixture, and mix on low until just combined. 
Add the oats, white chocolate, and cranberries, and mix again on low until combined. Use a spatula to incorporate any stray oats on the bottom of the mixing bowl.
Form the dough into balls about 2 tablespoons big (I used a 3/4 ounce scoop), and put 12 on a baking sheet. 
Bake the cookies until the sides are golden brown and the top is just starting to brown, about 8-12 minutes. (The very center will still be a bit pale.)
Transfer the baking sheet to a wire rack and let cool 5 minutes. Remove the cookies from the pan and let cool completely on the wire rack.
Recipe and photo from Vanilla Bean Blog