Recipes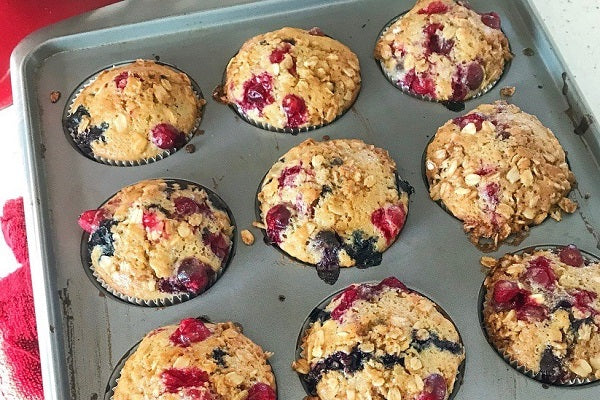 Makes: 12 Muffins
Total Time: 30 mins
Ingredients:
Dry
1 cup quick oats
1/2 cup wheat four
1 cup white flour 
1/2 cup brown sugar
1/4 cup granulated sugar
1/2 tsp baking soda
1/4 tsp salt
2 tsp baking powder
1/2 cup almond milk
Wet
1/2 cup apple cider vinegar
1/3 cup apple sauce
1 egg
        1/4 cup raspberries
        1/2 cup cranberries
        1/2 cup blueberries
Topping
1 tablespoon butter
1/4 teaspoon cinnamon
1 teaspoon vanilla
3 tablespoon old fashioned oats
Instructions:
Preheat oven to 425F (you'll turn it down to 350F once the muffins puff up) and spray muffin pan with cooking spray.
Mix almond milk and apple cider vinegar and set aside.
Combine all dry ingredients in a bowl and mix.
Melt butter in a bowl and add all other wet ingredients, including almond milk mixture from step 2 and mix.
Add wet and dry ingredients and stir the mixture, it should be lumpy at this point.
Stir in blueberries, cranberries, and raspberries. Leave a few cranberries aside for topping.
Pour muffin mix into prepared pan filling each cup about 3/4 full.
Distribute topping evenly among cups. Sprinkle old fashioned oats on top of crumb mixture along with a few fresh cranberries.
Place in the 425F oven and bake until perfect muffin tops form or for about 8-10 minutes.  Turn the oven down to 350F and bake for an additional 7-10 minutes or until a toothpick inserted in the center comes out clean.