Recipes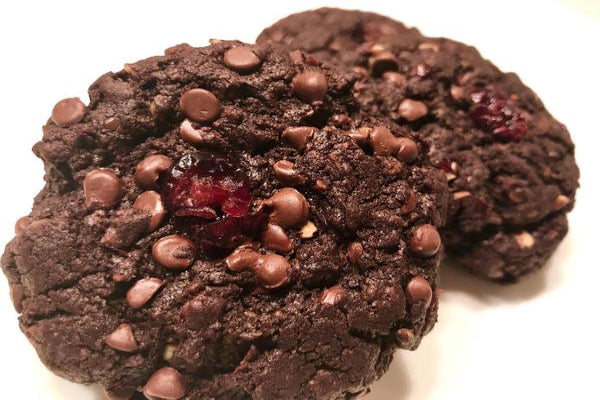 Double Chocolate Cranberry Pecan Coconut Cookies
Ingredients:
1 cup flour
1 cup cocoa powder
1 teaspoon baking soda
1/2 teaspoon salt
2 eggs
1 cup butter
1/2 cup dark brown sugar
1 /3 cup white sugar
1 teaspoon vanilla extract
1 cup chocolate chips
1/2 cup Decas Farms Paradise Meadow Premium Dried Cranberries
1/2 cup pecans
1/2 cup coconut flakes 
Preparation:
Preheat oven to 350 degrees.  Place parchment paper, nonstick baking paper, on cookie sheets. 
Mix flour, cocoa powder, baking soda, and salt together and set aside. 
Mix eggs, butter, sugars, and vanilla until well combined. 
Fold dry ingredients into wet. 
Stir in chocolate chips, cranberries, pecans and coconuts until just incorporated. 
Spoon dough by tablespoons onto cookie sheet  and press down, leaving 1 inch of space between cookies.
Bake for 12 minutes.  Let cool on wire racks and serve! Makes 18-24 cookies. 
Recipe and photo from Kosher Art Cooking