Recipes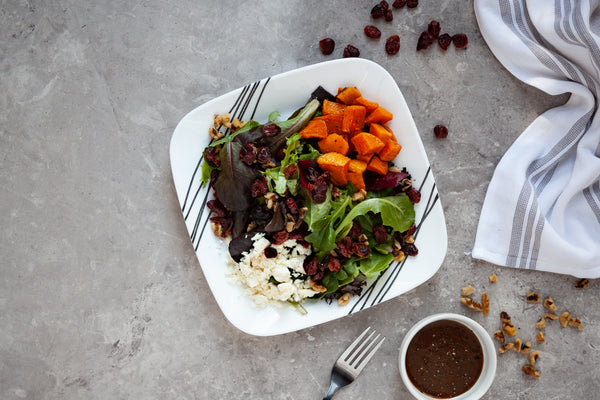 Roasted Butternut Squash, Cranberry, and Feta Salad
Serves: 6  Prep time: 15 min  Cook time: 30 min
Ingredients
2 1/2 cups diced butternut squash
(1 1/2 tablespoons olive oil)
6 cups fresh mixed greens
1/2 cup Decas Farms dried cranberries
1/4 cup chopped pecans
2 oz. feta cheese crumbled
Dressing
1/4 cup real maple syrup
2 tablespoons balsamic vinegar
1 teaspoon dijon mustard
1/4 cup olive oil
1/4 teaspoon salt
1/4 teaspoon pepper
Instructions
Preheat oven to 425°F. 
Mix diced squash and 1 1/2 Tbsp olive oil then spread onto a rimmed cookie sheet.
Bake 20-30 minutes or until squash is soft and starts to turn brown.
Remove and set aside.
Meanwhile, make the dressing. Combine maple syrup, vinegar, and mustard in a medium bowl. Gradually whisk in olive oil (1 Tbsp at a time). Add salt and pepper and whisk again.
Combine roasted squash, field greens, dried cranberries, pecans, and feta in a large bowl. Toss with maple vinaigrette and enjoy.
Note: Walnuts or gorgonzola cheese also work well in this recipe.