Recipes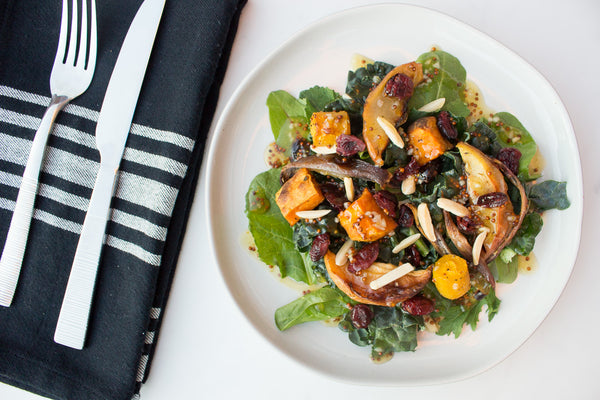 Herb Roasted Winter Vegetable Salad with Cranberries and Almonds
Ingredients:
For the roasted vegetables:
1 large red onion, cut into wedges
2 carrots, cut into 1 inch pieces
2 apples, cut into wedges
1 large sweet potato, cut into 1 inch cubes
2 cloves garlic grated
1 tbs 
olive oil
2 tsp Herbes de Provence (Italian Seasoning can substitute)
½ tsp salt
¼ tsp pepper
For the salad dressing:
1/2 cup extra virgin olive oil
1/4 cup balsamic vinegar
3 tablespoons pure maple syrup
1 tablespoon dijon mustard
1 garlic glove, minced
salt and pepper
For the salad:
4 lightly packed cups mixed sturdy winter greens (red chard, baby kale, and spinach), torn or cut into bite-size pieces if large
1/4 cup toasted almond slivers or chopped walnuts (toast on med heat on stove top until fragrant)
1/4 cup Decas Farms Original dried cranberries
Preparation:
Pre-heat an oven to 375 degrees. Line a cookie sheet with tin foil and spray with non-stick spray, set aside.
Place the onion, carrot, apple and sweet potato in a large zip-loc bag and mix well ensuring all ingredients are evenly coated with garlic, oil and spices.
Place the vegetable mixture on a single layer over the pre-lined cookie sheet.
Bake for 45 minutes or until onions are caramelized and carrots are tender.
To make the dressing, whisk the olive oil, balsamic vinegar, maple syrup, Dijon mustard, and garlic in a small bowl. Season with salt and pepper.
To make the salads, divide the greens between 4 salad bowls. Top each with roasted veggies, nuts and cranberries, dividing evenly. Serve with maple balsamic dressing and enjoy! Serves 4.