Recipes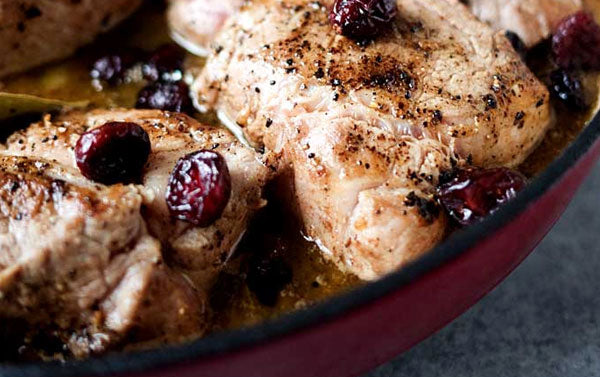 Maple Cranberry Braised Pork
Ingredients:
2 lbs country style pork ribs (no bone), cut into 4″ sections
ample salt & pepper
2 Tbsp olive oil
2 Tbsp butter
1/2 cup onion, diced
3 garlic cloves, minced
1 carrot, minced
3-4 cups vegetable broth
2 bay leaves
1/3 cup maple syrup
1 cup Decas Farms Dried Cranberries
Preparation:
Preheat the oven to 325 F.
Generously season the pork with salt and pepper, and heat a large shallow pan (with a lid) over high heat. Using tongs, brown the meat on all sides, working in batches and setting pieces aside when they're done.
As soon as the meat is browned, lower the heat to medium and add the olive oil, butter, onion, garlic, and carrot. Use a wooden spatula to scrape up any brown bits stuck to the pan.
Once the vegetables have begun to sweat, add the broth (another good opportunity to scrape any brown bits off the pan), bay leaves, and maple syrup. Bring to a gentle simmer, then add the meat back into the pan in a single layer, along with the cranberries.
Make sure the liquid is not fully covering the meat, but is more than halfway up the sides of it (mine was nearly to the top). Cover the pan, and place into the oven.
After 1 hour, flip the meat. Continue to cook for 60-90 more minutes.
Serve warm with the sauce from around the meat!
Photo and Recipe from The Kitchen Paper