Recipes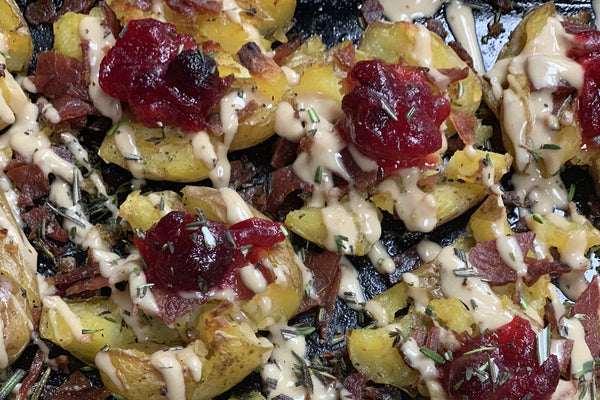 Thanksgiving Crispy Smashed Potatoes
Ingredients
2 lbs. small potatoes (red bliss or yellow creamer)
4 Tbsp unsalted butter, melted
2 Tbsp olive oil
¼ tsp garlic powder
¼ tsp onion powder
Salt and pepper
½ cup turkey gravy*
½ cup cranberry sauce
1-2 cups chopped cooked turkey*
2 Tbsp finely chopped parsley
1 Tbsp chopped rosemary
1 Tbsp chopped thyme
Instructions
To prepare the potatoes, wash under running water. Remove and discard any nubby sprouting areas. Place the potatoes in a large soup pot.
Fill the pot with cold water until the potatoes are submerged and covered by 1 inch of water. Salt the water with approximately 1 tablespoon of salt. Bring the mixture to a boil over medium-high heat and continue cooking until the potatoes are very easily pierced through by a fork (approx. 20 mins)
While the potatoes cook, preheat the oven to 425°F and drizzle 1 tablespoon of the olive oil over a large, rimmed baking sheet. Melt the butter in a microwave safe dish.
Once cooked, drain the potatoes in a large colander and allow them cool for about 5 minutes.
Evenly distribute the potatoes over the prepared oiled sheet, and use a potato masher or a fork to gently smash each potato to a height of about ¼- ½ an inch.*
Drizzle the remaining olive oil and melted butter over the smashed potatoes. Sprinkle the garlic powder, onion powder over the potatoes. Finally, sprinkle them lightly with freshly ground black pepper.
Roast until the potatoes are golden brown and crisp, about 25 - 30 minutes.
Once the potatoes are crisp, remove them from the oven and top with turkey and drizzle of gravy.  Return to the oven for an additional 10 minutes.
Once the gray and turkey are warm, top each smashed potato with a dollop of cranberry sauce.  Finally, sprinkle them with chopped fresh herbs, and serve hot.
Notes:
*If you don't have turkey gravy, 2 tablespoons of sour cream can be mixed with ½ packet of turkey gravy mix.  Use water to thin the mixture to a consistency that can be drizzled.
*No leftover turkey? Cooked turkey bacon can be used instead.