Recipes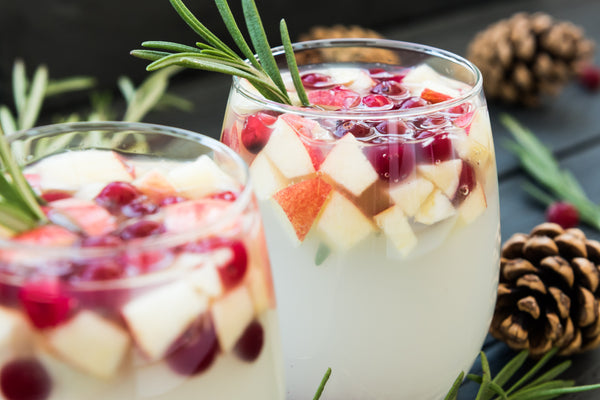 Ingredients: 
1 1/2 cups Paradise Meadow Premium Cape Cod fresh cranberries
1 Granny Smith apple, cored and diced (skin left on)
1 Gala apple, cored and diced (skin left on)
7 rosemary sprigs
1 bottle white wine (pinot grigio or moscato, also good ½ and ½ )
1 can ginger beer (or club soda)
1 cup apple cider
2 tablespoons granulated sugar (for garnish)
Preparation:
In a large pitcher, combine the cranberries, apples, and 1 rosemary sprig.
Pour in the liquid: pinot grigio, ginger beer and apple cider. Stir to combine.
Place the pitcher in the refrigerator to chill for 1 - 2 hours.
Meanwhile, fill a shallow bowl with warm water. Fill another shallow bowl with the 2 tablespoons of granulated sugar. Gently dip the remaining rosemary sprigs in the water, and gently shake off any excess water. Dip the sprigs into the sugar and roll to coat. Shake off any excess sugar and set aside.
When you are ready to serve. Pour the sangria and some fruit into each glass, garnish with sugared rosemary and enjoy!