Good Riddance To 2020 & Cheers To The New Year!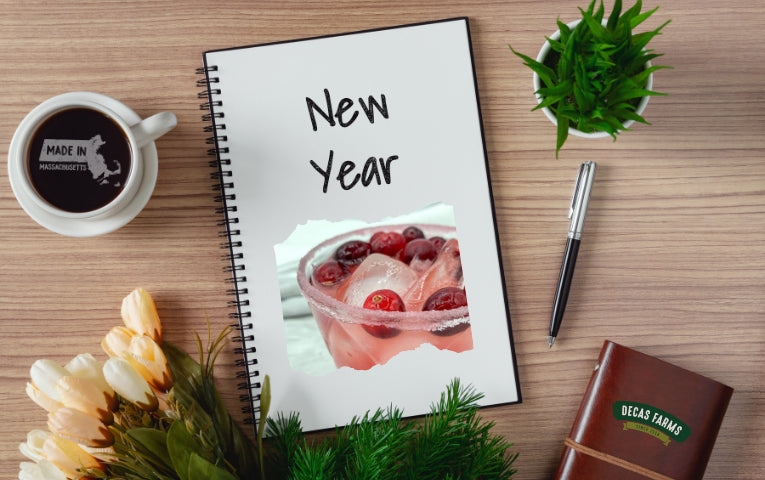 Good Riddance to 2020...
Though it seems like this has been a year that we'd all like to forget, we've learned some important lessons to carry into 2021 and years beyond.
Taking care of yourself, your family, and your community while so important is so very hard to do especially without your friends and relatives by your side.
There's a little bit of Julia Child in all of us.
It is possible to be productive in sweat pants (joggers, lounge pants, give them whatever fancy name makes you feel good).
Children, spouses, and pets make for interesting co-workers.
Your parents can figure out video calling and did.
We also learned that a stiff drink now and then might be the only way to cope with all of this.  That's why we think a round-up of 5 drool worthy drinks is the perfect way to end this year and look to a much more promising 2021.  
***********Drink Responsibly***********
Bog-A-Rita
Brainstorming for a New Years Eve soirée? We got you covered with a cranberry cocktail roundup to close out 2020! Heres a taste of whats to come. For more cocktail recipes check out our end of year blog.
INGREDIENTS:
2 ounces Gold Tequila

2 ounces white grapefruit juice

1/2 ounces fresh lime juice

1/2 ounce Triple Sec or Grand Marnier

Splash of plain or lemon lime soda 

Sprite 1 ounce cranberry syrup
DIRECTIONS:
To make the syrup:
Heat 1/2 cup of water, 1/2 cup of sugar, ¼ cup of Decas Farms® Fresh Cranberries in a saucepan until the sugar is dissolved (5-10 minutes). You will have extra syrup, for more delicious drinks like these Remove from heat and bring to room temperature Strain through a fine mesh sieve and refrigerate syrup until ready to use
To make the margarita:
Mix the syrup, tequila, orange liqueur, lime and grapefruit juices together in a shaker with ice Strain into a margarita glass, rimmed if desired with sugar or salt.
GrandTen Craneberry Apple Fizz 
Try spread warmth and holiday cheer with a Cran-Apple Fizz from our friends at GrandTen Distilling in Boston.
INGREDIENTS:
2 oz. GrandTen North County Apple Brandy

1/2 oz. GrandTen Craneberry Liqueur

1/2 oz. lemon juice

1/2 oz. simple syrup

2-3 dashes of Peychauds bitters

Soda water
DIRECTIONS:
Combine the spirits, lemon juice, simple syrup, and bitters in a tall glass with ice. Stir for 30 seconds, top with soda water, then enjoy!
for a history lesson and more great drinks go to  https://grandten.com/
Christmas in Quarantine 
Get cozy with a Christmas in Quarantine courtesy of GlenPharmer Distillery in Franklin, MA.  The warm vanilla and citrus flavors make it the perfect companion to athleisure wear. Get your bottle of BOG at the distillery.
INGREDIENTS:
1 1/2 oz. BOG
1 oz. Vanilla Liqueur or Vanilla Brandy
2 dashes orange bitters
Sprinkle of cinnamon

Decas Farms® fresh cranberries
DIRECTIONS:
Stir to mix and chill, strain over ice. Garnish with orange peel and cinnamon stick and a few Decas Farms® fresh cranberries. 
Yule Mule
Yule love this cranberry Mule. The mint and ginger make it a refreshing holiday favorite. 
INGREDIENTS:
2 oz. Unsweetened cranberry juice
2 oz. Deep Eddy Cranberry Vodka
1 oz. Fresh lime juice
3 oz. Ginger beer
5-6 Decas Farms® fresh or frozen cranberries
1 Sprig fresh mint
DIRECTIONS:
Combine juice, vodka, and lime juice in a cocktail shaker full of ice. Cover and give this a good shake. Pour into mule mug and fill with ginger beer. Top with cranberries and mint. Drink and be merry!
Bubbles and Berries
INGREDIENTS:
1 1/2 oz. Deep Eddy Cranberry Vodka
3 oz. Champagne
4-5 Fresh Cranberries
DIRECTIONS:
Pour Deep Eddy Cranberry Vodka into champagne flute and top with a champagne of your choice. Add fresh Decas Farms cranberries for extra holiday delight and flavor. 
Other Cranberry Cocktails we love!
 ... and cheers to the new year!