A Classic DIY Christmas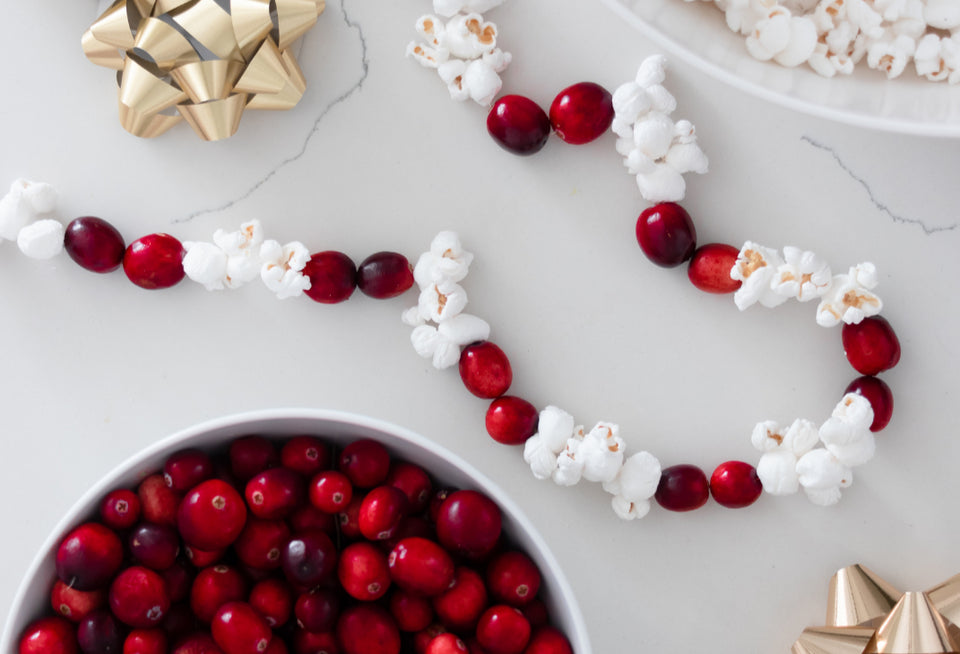 The Nostalgia of The Holidays
Nothing says "Classic Christmas" like stringing popcorn garland, cookie swaps, and decorating holiday treats with loved ones. While 2020 has been different than past years, that doesn't mean these timeless traditions can't continue. If you and the kiddos are already experiencing mild cabin fever, these activities are great ways to keep busy and get in the holiday spirit!
DIY Cranberry Popcorn Garland
We're taking you back to the 19th and 20th century for truly Classic Christmas inspiration. For generations, stringing popcorn has remained a long standing and nostalgic family tradition as it's easy-to-make, inexpensive, and a sustainable alternative.
SUPPLIES:
Sewing Needle (1 per person)
String (Sewing Thread or Fishing Line)
Decas Farms® Fresh Cranberries
Unbuttered Popcorn
Once the popcorn is popped place it in a bowl and let the popcorn sit for about a day after popping. This will allow the popcorn to harden and minimize breaking when stringing. Cut strings to your desired lengths, though consider leaving extra slack for knotting upon completion. Next, thread your sewing needle and begin by first stringing your needle through a cranberry. The cranberry will be less likely to slip the knot than popcorn once they're strung. Continue stringing through the cranberries and popcorn in your desired pattern. Choose the largest popcorn kernels to prevent the string from breaking through. Leave slack at the end of the garland in order to tie a secure end knot and an additional slip knot for hanging when complete. Once the holidays are over, don't forget to place your garland outside for the birds to eat!
White Chocolate Covered Cranberries
White chocolate covered cranberries are an easy-to-make DIY treat and a kid-friendly task to occupy little hands while you finish your holiday wrapping. This delicious treat makes a great grab-and-go snack, or even a vibrant embellishment on your ginger bread house.
12 oz. bag of Decas Farms® fresh cranberries

10 oz. white melting wafers
Melt chocolate in microwave according to package direction
Dip cranberries in the chocolate with a fork while allowing the excess run off.
Place dipped cranberries on wax paper and let cool.

A Quarantine Cookie Exchange
Whether you decide to do a quarantine cookie swap within your household or with a small group of friends these Cranberry Orange Cookies will have your loved ones Zoom calling you for the recipe!
INGREDIENTS:
2 1/4

 

cups

 

all-purpose flour

1

 

tsp 

baking soda

1

 

pinch

 

sea salt

1

 

cup

 

Decas Farms

® Fresh Cranberries 

chopped

3/4

 

cup

 

1.5 sticks unsweetened butter,

 

softened

3/4

 

cup

 

packed brown sugar

1/3

 

cup

 

granulated sugar

2

 

large

 

eggs, 

at room temperature

1

 

tsp

 

vanilla extract

1

 

tsp

 

orange zest

1

 

cup

 

baking white chocolate chips

1/2

 

tbsp

 

coconut oil

1

 

cup

 

raw, peeled almonds

 

chopped
 For step-by-step recipe directions and an alternative version with dried cranberries, follow the link below!
https://www.decasfarms.com/blogs/recipes/cranberry-orange-cookies 
 If Cranberry Orange Cookies aren't for you, try making some delicious Double Chocolate Cranberry Pecan Coconut Cookies or some classic Cranberry Vanilla Oatmeal Cookies. If your feeling extra creative you can even try making Cranberry Pistachio & Candied Orange Peel Biscotti. All these fantastic recipes can be found in the link below!
https://www.decasfarms.com/blogs/recipes/tagged/cookie?page=1
Other Ways to Have a Classic Christmas
Virtual Christmas caroling on Skype or Zoom
Drive around with the family and view neighborhood light displays
Have a Christmas movie marathon
Donate food to local your food banks
 Use #CranberryChristmas and @DecasFarms to show us all your cookies, garland, and other festive cranberry creations!