Recipes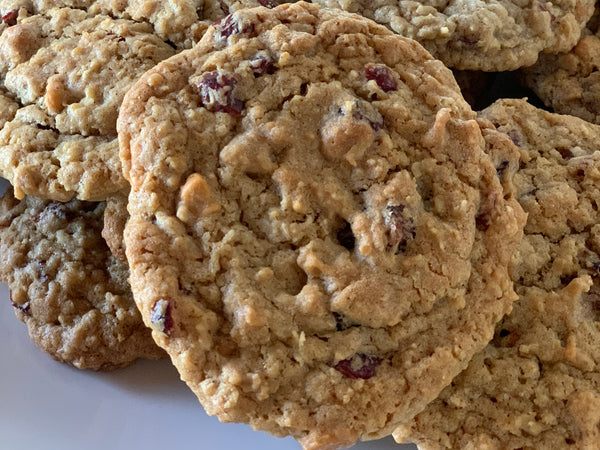 Cranberry Oatmeal Scotchies
Makes about 30 cookies
Ingredients
1 ½ cups all-purpose flour, spooned and leveled
3 cups old-fashioned whole rolled oats
1/2 tsp ground cinnamon
1 tsp baking soda
1 tsp baking powder
1 tsp salt
1 cup (2 sticks)unsalted butter, room temperature
1 cup dark brown sugar, packed
1/2 cup granulated sugar
2 large eggs, room temperature
2 tsp pure vanilla extract
1 ½ cups butterscotch morsels
1 cup Decas Farms Cranberry-Orange or Cranberry-Apple Baker's Cut Baking cranberries
Preparation
Combine the flour, oats, cinnamon, baking soda, baking powder, and salt together in the bowl of a stand mixer. Mix on low until the oats break down. Transfer to a medium bowl and set aside.
In a large bowl using a stand mixer fitted with a paddle attachment, beat the butter, brown sugar, and granulated sugar together on medium-high speed until combined and creamy, about 2 minutes.
Add the eggs, one at a time, and vanilla and beat on high speed until combined, about 1 minute. Scrape down the sides and the bottom of the bowl and beat as needed to combine.
Slowly add the dry ingredients to the wet ingredients and mix on low until combined. With the mixer running on low speed, add the butterscotch morsels and cranberries.
Cover and chill the dough for at least 45 minutes in the refrigerator.  
Preheat oven to 350°F (177°C). Line baking sheets with parchment paper or silicone baking mats. Set aside.
Scoop cookie dough (2-3 Tablespoons of dough per cookie), and place 4 inches apart on the baking sheets. Bake for 13-14 minutes or until lightly browned on the sides. The centers will still be soft.
Remove the cookies from the oven and allow them to cool on the baking sheet for 5 minutes before transferring to a wire rack.
Cool completely and enjoy. Store any remaining cookies in an airtight container for up to a week.
Note:  If you desire whole oats in your cookie, whisk the dry ingredients omitting the oats.  Then add the oats with the cranberries and butterscotch morsels.