Recipes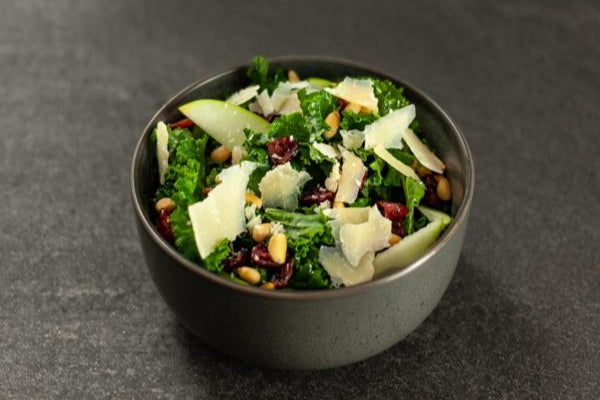 Kale, Cranberry, Pear, Pine Nut and Parmesan Salad
Time: 15 min   Serves:
 

6
Ingredients:
Salad
1 (5 oz.) package baby kale, de-stemmed, washed and torn
3 tablespoons olive oil
1 cup Decas Farms dried cranberries
1 cup toasted pine nuts*
1 small pear, thinly sliced
1 (2 oz.) piece Parmesan cheese, shaved**
Vinaigrette
2 tablespoons lemon juice
3 tablespoons red wine vinegar
2 tablespoons honey
2 cloves of garlic, crushed (or 2-3 tsps minced garlic); optional
Instructions:
Salad
1.In a bowl, combine the kale and oil. Season lightly with salt and pepper.  Using clean hands, gently massage the kale for 1 minute.
2.Add the cranberries, toasted pine nuts, and pears.
3.In another bowl, whisk the vinaigrette ingredients until combined.
4.Pour vinaigrette dressing over the salad, toss, top with Parmesan and enjoy!
Notes: 
*Shave Parmesan with a vegetable peeler for thin slices.
**Toast the pine nuts in a dry skillet over medium-low heat for 3 minutes, stirring       frequently until golden and fragrant.